Artist: Apollo 18
Album: The Black Album
Release Date: November 2011
Genre: Post Rock, Hardcore, Screamo, Heavy Metal, Hard Rock
1. Sonic Boom
2. Deadend
3.
Corpse Flower
4. MUR
[Download]
If you haven't heard of Apollo 18 yet, boy you are missing out. Apollo 18's music is hard to define. It's a bibimbap of everything nice and rough. At one point, you want to bang your head in the air so hard your brain is about to pop out. Sometimes, you really listen to beautiful guitar strums and get a chill down your spine. It's got slow, fast, really fast, freaking insane, and everything nice. All of the band members come from a great background, each individual members being in a few of successful bands.
Two more albums to come from them - Blue Album and Violet Album. I'll upload the rest when I get a chance. Meanwhile, enjoy a live recording session of
Corpse Flower
.
Hi Everyone! It's been a while.


I haven't been keeping track of new songs, however I'll most definitely try to post whatever the music (only the good ones :) ) I encounter from now on.

Thank you for all your comments. They really cheer me up day to day.
Hi! Whoever keeps track of this journal. It's been a while and I'm surprised I still get feedbacks over the years.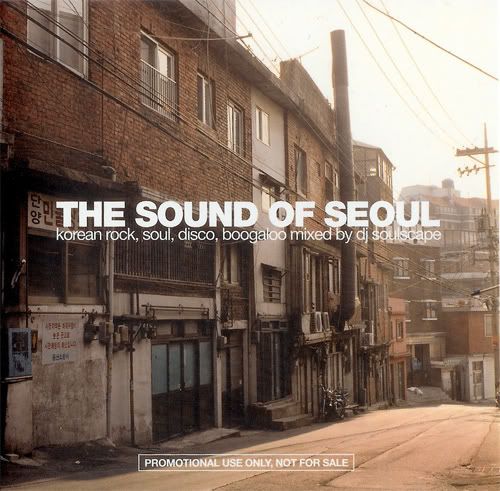 Artist: DJ Soulscape
Album: The Sound of Seoul
Release Date: 2007
Genre: Traditional Korean Folk, Vintage Rock, Soul, Funk, Everything pretty and nice
01. The Sound of Seoul
This is a requested song. This is a mash-up remix of DJ soulscape's earlier work. Running Time is a little over an hour, and personally I haven't listened until the end.
If you are in a nostalgic mood to hear some of the earlier Korean music (back in 70~80's) then this might be a good track to burn on your CD and blast on your car stereo!
[Download : MediaFire]
Artist: Peppertones
Album: Colorful Express
Release date: Dec. 15. 2005
Genre: Electronica, Soft Pop
Language: Korean, English
Ready, Get Set, Go! (Radio Edit)
Superfantastic
세계정복
April Funk (June Mix)
Bike
잠든 도시의 미로
Heavy Sun Heavy Moon
Colorful
High Romance
Fake Traveler
남반구
Everything Is Ok
High Romance (Radio Edit)
Ready, Get Set, Go! (Full Ver.)
QUOTE
One of my favorite electronica group! you might know them from their latest release "New Standard" album. I've heard few requests for this album, so I'm uploading this. If you are new to them, they play very upbeat, joyful, catchy electronic songs with cute vocal support featuring 'deb.' Just to let you know, deb is only a temporary vocal, not a staple member.
[Download Link - Sharebee]
Artist: Coin Classic
Album: If U Smile
Release Date: June 21, 2009
Genre: Pop Rock, Pop Punk
01. If U Smile (Korean Ver.)
[MV]
02. Bloody Mary
03. Claire
04. If U Smile (Eng. Ver.)
I have only a little info on these guys, but I loved this single instantly!
Make sure to check out their music video of "If U Smile."
A little background:
This album was produced by famous K-rock band "Cherry Filter." Former Foo Fighters guitarist Franz Stahl commented "blink-182 has reborn!"
They are fairly new pop punk band in Korean rock scene.
-HIDDEN CONTENT- Reply to view~ Up yours leechers =)
[Download - Mediafire]
Link provided from iHoneyJoo.com. If you are an admin from iHoneyJoo, I apologize in advance for taking the link without your permission.
The vocalist from the legendary band "Sinawe", Kim Bada brings a great rock album implemented with heavy electronic sound. This album is just plain awesome, and although it is over an year old, I had to share with you guys.
If you are a fan of electronic and rock, trust me. You won't be disappointed.
The Ratios - Burning Telepathy
Released: 2008.3.19
Genre: Electronic, Rock, Nu Rave
Language: Korean, English
Passion Is Love
Punk And Roll
Rockstar
Viper Room
Love Song No 9
Love Is All
Newave
Crush
Emotional Computer
Long Journey/Island
031807
This Is Me
Into The Rainbow
See The Pinky Sky
http://sharebee.com/b5b0a332
Jang Giha wa Olguldeul (Jang Gi-ha & Faces) has gained tremendous fame, after their single release of "Ssaguryo Coffee (Cheap Coffee)" in mid 2008. Indie Rock TV channel show EBS Space Gong-gam has presented their short 30 min show and their funky and weird dance moves grabbed the audiences' attention quickly and it did not take long enough for people to find about them over the internet. Their lyrics are quite unique compared to what we here from the modern day's music industry. Instead of cheesy love poems and sophisticated notions presented in today's music, their songs contain about the hardships of low-life students living the day with a cup of noodle and a can of cheap coffee. Also, Jang Giha's own unique philosophy of his view of life is deliciously melted into each individual songs.
Jang Giha & Faces have won the Album of the Year of 2008, presented by the Korean Music Award. They are the hottest band in Hong-dae area.
If you want to taste their songs before spending time to download, check out video links next to the songs.
장기하와 얼굴들 - 별일없이 산다
Jang Giha & Faces - Not Much Going On
Released: 2009.2.27
Label: Bung-ga Bung-ga Records
나와 (With Me)
아무것도 없잖어 (Nothing is here)
오늘도 무사히 (Safely Today)
정말 없었는지 (Really Not There)
삼거리에서 만난 사람 (People Met At The Crossroad)
말하러 가는 길 (On The Way To Say)
나를 받아주오 (Take On Me)
그 남자 왜 (That Man, Why)
멱살 한 번 잡히십시다 (Let's Grab Your Collar)
싸구려 커피 (Cheap Coffee) [Live Clip]
달이 차오른다 가자 (Moon Is Rising, Let's Go) [Live Clip]
느리게 걷자 (Let's Walk Slow)
별일 없이 산다 (Not Much Going On)
Download [Sharebee]
Recently, I became obsessed with this show. For those of you who don't know, simply it's a show where all the international ladies gather around and talk about differences they have experienced living in Korea. It's freaking weird that non-Koreans are speaking Korean fluently and talking about how they can't last a single day without eating kimchi, but that's the reality here haha.
I left Korea when I was young, so I cannot quite recall how many foreigners I saw back in the day, but according to the show, there are at least over 100,000 foreigners living in S. Korea. Quite surprising.
Thanks to ahboo.wordpress.com, I got a chance to watch few episodes. I had no problem of understanding the show even though I watched it from 100th episode.
Enjoy!
E100
E101

E104
E105
E106
E110
E111
E113

E114
For those of you who missed episodes from this drama, I found a website with full 720p download links.
I personally could not stand watching this drama, but a lot, I mean A LOT of people seem to like this, so please enjoy on your own.
Download Link


Broccoli Neomajeo (Brocolli you too) released their very first EP album in October, 2008. Unexpectidely, their catchy rhythm and heart-warming lyrics became the hottest issue in Hong-Dae indie scene. Broccoli Neomajeo returned with their first official album, Bopyunjeokin Norae (trans. Ubiquitous Song) with better recording quality and improved versions of their ep tracks.

I would say their songs are very unique, yet similar to what the korean pop industry carries. Their melody is somewhat musicians from 90's would have played, and this kind of longevity may have attracted lot of people. Because deep inside of their hearts, they miss the old tunes and restoration of good old times. Lot of songs are very soothing and poppy. Track 3 is my favorite because that track features a pop tune with a very cute rap.

브로콜리 너마저 (Broccoli Neomajeo, Broccoli, you too?) - 보편적인 노래 (Bopyunjeokin Norae)
Release Date: 2008.12.09
Genre: Pop, Modern Rock

춤 (Dance)
이웃에 방해가 되지 않는 선에서 (Along the line where neighbors don't be bothered)
봄이 오면 (When spring comes)
두근두근 (heartbeat)
속좁은 여학생 (Selfish Student Girl)
2009년의 우리들 (Us in 2009)
말 (Word)
안녕 (Bye)
편지 (Letter)
앵콜요청금지 (Do not call for an encore)
보편적인 노래 (Ubiquitous Song)
유자차 (Tangerine Tea)
Download